Anka

About the Winery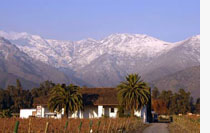 Anka is a certified organic wine that comes from the Pargua winery and the producer of Domus Aurea. Winemaker Jean Pascal Lacaze believes that wine is only as good as the grapes from which it is made. At his Maipo Valley vineyard Lacaze grows the grapes sustainably and organically, uses the best fruit, ages the wine in individually selected barrels and blends the juice at just the right time.
The label artwork was created by renowned Chilean artist Benjamin Lira, who took his inspiration from the word Pargua, meaning "full moon" in the Mapuche language. Like the artwork, which will change with every vintage, Pargua's wines are vibrant, expressive, and harmonious.
Click here for great press about Anka!
Click here for trade materials for this winery.
The Wine
2012 Anka Red Wine
This quaffable wine is made with a bright blend of 60% Cabernet Sauvignon, 16% Cabernet Franc, 10% Merlot, 7% Carmenere, 5% Syrah and 2% Petit Verdot- estate grown fruit. In the glass it is a deep red color that recalls plums and strawberry aromas with a juicy texture supported by integrated tannins and a generous finish of wild berries, dried fruit, and sweet spice. Anka will make an outstanding companion to grilled meats, eggplant, Moroccan food and spicy sauces. 2,500 cases produced.
• Suggested Retail: $20.00