Gran Verano

About the Winery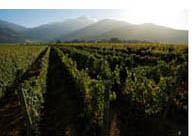 Gran Verano means "great summer" in Spanish. Chile's long, warm summer days and cool summer nights allow the grapes to reach optimal maturation. These wonderful climatic conditions inspired the name. Both the Sauvignon Blanc and Cabernet Sauvignon are high-quality, fruit forward wines produced in the heart of Chile's Central Valley.
Gran Verano represents a new generation of 3.0 liter bag-in-box wine. The quality of the wine, combined with improvements in packaging make Gran Verano an extremely good value. Here a few additional reasons why we like BIB (bag-in-box) wines:
BIB wine stays fresher. Because of their airtight bags, BIBs last weeks longer than wine decanted from a conventional glass bottle, making BIBs ideal for home consumption, as well as for wine-by-the-glass programs in restaurants.
BIBs are "green." Less energy is required to produce BIBs and less waste is produced — a great selling point for eco-conscious consumers.
BIBs have an excellent price point. Lower packaging & shipping costs translate into lower prices, which makes BIBs a relative bargain to the quality of wine.
Gran Verano's premium wines from Chile are clearly a step up in quality versus most other BIBs.
Click here for great press about Gran Verano!
Click here for trade materials for this winery.

The Wines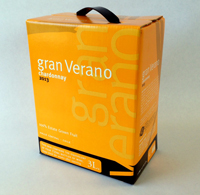 Gran Verano Chardonnay 3.0 liter BIB
The Chardonnay is pale, golden straw colored in the glass followed by intense fruit aromas on the nose with touches of peach, mango and pineapple. The forward fruit and unoaked flavors lead to a big, luscious finish.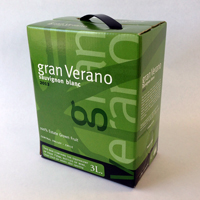 Gran Verano Sauvignon Blanc 3.0 liter BIB
This Sauvignon Blanc has an appealing green-yellow color with floral notes intermingled with tropical fruits. The fresh and citrusy finish on the palate makes this wine dry, refreshing and crisp.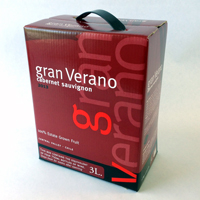 Gran Verano Cabernet Sauvignon 3.0 liter BIB
This 100% Cabernet Sauvignon has a deep and intense ruby-red color with pleasant notes of plums, blackberries and figs. On the palate, it has a juicy flavor with a pleasant, well rounded finish.