Marichal

About the Winery
Bodega Marichal is headed by winemakers Juan Andrés and Alejandro Marichal. They are a family-owned, Uruguayan winery originally established in 1938 and now they are into their third and fourth generation of family winemaking. The vineyards are located at an ideal latitude in the department, or province, of Canelones (15 miles north of Uruguay's capitol, Montevideo) where the warm weather, cool Atlantic breezes and deep clay soil allow grape varieties like Tannat to thrive and achieve unique character.

Click here for great press about Marichal!
Click here for trade materials for this winery.
The Wines
Marichal Premium Varietal Tannat
The Tannat grape has been transformed by the Uruguayan environment to become the country's prominent variety. Marichal winemaking methods produce a Tannat without any wood or oak treatment resulting in a Tannat that is uniquely approachable with softer, velvety tannins and aromas of blackberries and dark fruit. The wine is a direct expression of its terroir and the climate where it thrives.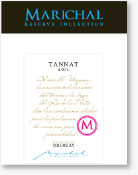 Marichal Reserve Collection Tannat
100% Tannat, the most important grape in Uruguay, where ideal conditions result in wine of great expression and personality. The fruit is picked by hand from Marichal family vineyards, fermented and aged 12 months in oak on the family property and in Canelones. The Tannat wines produced there are characterized by more elegant and softer tannins and blackberry fruit notes.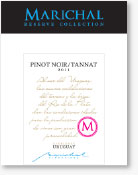 Marichal Reserve Collection Tannat/ Pinot Noir
The unique blend of 70% Pinot Noir and 30% Tannat is a deep garnet red in the glass. The flavors are delicate with blackberries and plum jelly notes followed by a creamy finish.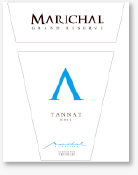 Marichal Grand Reserve Tannat "A"
Marichal Grand Reserve "A" Tannat is the first Grand Reserve wine of this boutique winery. Complex and seductive nose with mature black forest fruits and hints of spices. This full bodied wine has intense, gentle round tannins. Delicious mature fruit appear again on the palate, well integrated with coffee and chocolate hints. Very enjoyable and long lasting finish.