Apaltagua
About the Winery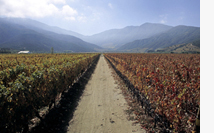 Apaltagua Winery, owned by the Tutunjian family, specializes in small production, appellation‐based wines from Chile. Apaltagua's 65‐year‐old vineyards are located throughout Chile. The winery is located in the prestigious Apalta region of the Colchagua Valley, renowned for producing quality red wines, including Carmenère, Cabernet Sauvignon and Malbec. Apaltagua wines are crafted by winemaker Benjamin Mei and consulting winemaker Alvaro Espinoza, one of the country's foremost winemakers and the pioneer of biodynamic grape farming in Chile.
Click here for great press about Apaltagua!
Click here for trade materials for this winery.
The Wines

Apaltagua Reserva Chardonnay These Chardonnay grapes are selected vineyards in the Casablanca Valley. This region is known for the strong Pacific maritime influence and also being recognized as Chile's first official "cool climate valley", ideal for the production of white wine grapes.The Reserva Chardonnay is unoaked and has a golden color and is fresh and clean on the nose with notes of lime and vanilla in the mouth, it is crisp, dry and refreshing. Also available in half bottle sizes.

Apaltagua Carmenere Rosé Apaltagua's Rosé of Carmenere is fresh and shows a brilliant pink hue in the glass. On the nose you are greeted with aromas of strawberries, roses, touches of smokey balsamic and a bit of spice. Lingering citrus and lightly spiced tannins lead to a long finish.

Apaltagua Reserva Pinot Noir Apaltagua's Pinot Noir has a brilliant ruby color and emphasizes aromas of cherries, raspberries, and soft notes of oak. It boasts smooth and elegant tannins and a sophisticated finish. The grapes come from Apaltagua's own vineyard in Tricao in the Curico Valley. Also available in half bottle sizes.

Apaltagua Reserva Malbec Grown on low ridges at the foot of the coastal mountain range in Maule Valley, this well structured Malbec stands out as a robust and velvety wine with red fruit flavors, such as cherries mingled with plums, truffles and a touch of pepper.

Apaltagua Reserva Carmenère Made from 100% Carmenère grapes. This wine shows a spicy, plummy nose and ripe, berry fruit on the palate. Gentle handling to the grapes preserves the quality and character of the fruit. This wine is an impressive introduction to the Carmenère grape and a very good value.

Apaltagua Reserva Cabernet Sauvignon This Cabernet Sauvignon from an excellent vintage is of deep violet hue and has a nose with hints of tobacco and dark chocolate, coupled with ripe stone fruit character in the mouth. This wine received minimal handling before bottling to preserve its uniqueness and integrity. Also available in half bottle sizes.

Costero Sparkling Wine Apaltagua Costero is pale gold in color, with fine bubbles. On the nose it is clean with marked notes of white fruits, such as green and yellow apples. Clear notes of crusty bread and hazelnuts mix with a delicate hint of buttery aromas. In the mouth it is creamy, where the subtle flavors of white fruit repeat and blend with a nutty hint, and finish with a fresh and persistent end.

Apaltagua Colección Pinot Noir The Colección wines are a limited edition line that will showcase the finest wines from Apaltgaua's best growing regions. The Colección Pinot Noir comes from the San Antonio Valley vineyard, known for its coastal Mountain range and close proximity to the Pacific Ocean. With a pale ruby-red and medium intensity, the wine has pronounced aromas of wild fruits, such as blackcurrant, raspberry with cassis and a touch of smoke from the toasted French oak. In the mouth it is dry, with a medium-high level of acidity, and mature tannins.

Apaltagua Envero Gran Reserva Carmenère Made of Carmenère and a splash of Cabernet Sauvignon, Envero's dark, rich fruit is complemented by eight months in French oak. All of the fruit comes from the Apalta region of the Colchagua Valley and has been harvested from 50 year-old vines.

Apaltagua Signature Cabernet Sauvignon This elegant and concentrated wine comes from Pirque, in the foothills of the Andes mountains. Made from 100% Cabernet grapes, it has notes of blueberries, minerals and ripe cassis. Aged in new oak barrels for 18 months.

Apaltagua Carmenère Grial Carmenère Grial is among the very best Carmenères produced today and comes from 70 year-old, ungrafted vines. Extreme measures were taken in fruit selection which results in a rich, extracted and bold wine capable of many years of extended cellaring. The seductive flavors of blackberry, grilled peppers and dark, spicy cherry linger on the palate.