Domus Aurea

About the Winery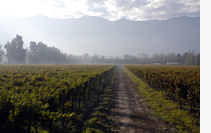 Located in the foothills of the Andes Mountain Range, Viña Quebrada de Macul is recognized as one of the finest vineyards in the Maipo Valley. It is here, on the gravelly slopes of a 45-acre single-vineyard, that owners Ricardo and Isabel Peña produce their award-winning Domus Aurea Cabernet Sauvignon. The Peña family is committed to extremely low yields. The family's vineyards are divided into five blocks that follow the depth and stoniness of the soil, which are further divided into upper, middle and lower rows. The harvest is not determined by block or row but vine by vine. The winery utilizes open-top fermentation and personalized oak aging cycles, selecting lots with the most character to be the first wines into French barrels.
Click here for great press about Domus Aurea!
Click here for trade materials for this winery.
---
The Wines

Domus Aurea Cabernet Sauvignon
Made with a blend of 85% Cabernet Sauvignon, 6% Petit Verdot, 6% Merlot, 3% Cabernet Franc (2013 vintage). The wine is deep intense garnet in the glass with a harmonious nose of blackcurrants and blackberries. A swirl will reveal a slight eucalyptus note mixed with fresh cigar, cedar and spicy vanilla followed by a layer of blueberries, graphite and stony notes, dried thyme and just a touch of smoke.
---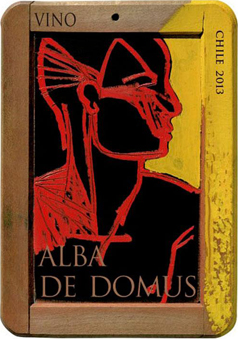 Alba de Domus Aurea Cabernet Sauvignon
A blend of 75% Cabernet Sauvignon, 12% Petit Verdot, 11% Merlot and 2% Cabernet Franc (2013 vintage). Bright and deep ruby purple in the glass with romas of candied cherries, raspberries and herbal tones, Alba de Domus opens up with wild berries and mint bringing about balance, integrated structure and fine tannins with a ripe juicy texture. Lively and smooth, it has an elegant body that evolves in a bright finish of slightly jammy red fruits and discrete mineral tones.