Maquis

About the Winery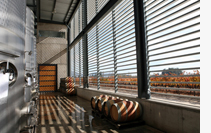 The Hurtado family has owned the Viña Maquis vineyard for more than a century, but it wasn't until almost 15 years ago that the family decided to make their own wine out of the terrific grapes in their own backyard. They built a state-of-the-art gravity flow winery and set out to make the Maquis winery one of the great properties in all of South America.
Located in Colchagua Valley, the winery's focus is on distinctive single-vineyard, estate wines, as well as producing "balanced" wines that are not over-ripe (resulting in excessively high alcohol) but also not exhibiting any of the "green" character that sometimes plagues wines picked from grapes that have not fully matured. The Maquis main vineyard is essentially an island: it is deeply influenced by the Tinguiririca River on one side and the Chimbarongo Creek on the other. These two large waterways once brought alluvial sediment from the Andes and today act as pathways for cool coastal breezes that help moderate the warm Colchagua summers, contributing to the intensity, character, fruitiness and mineral elements of the Maquis wines. Maquis is fortunate to have such a privileged location.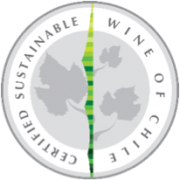 Since 2005, Maquis has worked with consulting winemaker Xavier Choné, whose specialty is vineyard evaluation. By paying close attention to soil conditions, the spacing of the vines, and the timing of the harvest, Choné's style of winemaking produces sophisticated wines with concentrated flavors that truly represent the region's terroir. At Maquis, vineyards are strategically planted and farmed with minimal irrigation with Carmenere in the warmest spots and Cabernet Franc in the cooler areas. Choné works with wineries around the world, including Opus One, Joseph Phelps, and Dominus Estate. Maquis is the only South American winery with which Choné is affiliated.
In addition to Choné, Maquis utilizes the expert blending talents of Bordeaux's Eric Boissenot. Several times per year Ricardo will travel to Bordeaux to work on the final blends of the Maquis wines with the Eric, who also works with four of Bordeaux's first growths. He and his late father Jacques were named "Blenders of the Decade" by Decanter magazine.
Click here for great press about Maquis!
Click here for trade materials for this winery

The Wines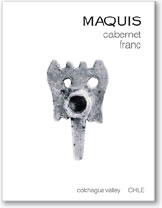 2013 Viña Maquis Cabernet Franc
The Maquis Cabernet Franc is grown in the Colchagua Valley. The wine is made from grapes grown on the Maquis estate, between the Chimbarongo Creek and the Tinguiririca River in central Colchagua Valley. These elements are ideal for producing Cabernet Franc grapes that are full and rich, yet display balance and elegance.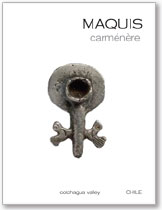 2013 Viña Maquis Carmenere
With an expressive nose containing hints of laurel, spicy clove and a pleasant note of rosemary, this wine also exudes a layer of deep red fruits. On the palate, it's fresh, with sweet tannins and a full-bodied flavor that ends in a lovely, lingering finish.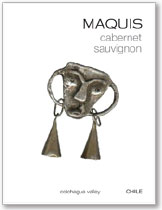 2013 Viña Maquis Cabernet Sauvignon
This Cabernet presents a complex, profound nose with spicy flourishes of cinnamon, clove, cocoa and red fruits. It is a vibrant, fresh wine with a long finish and tannins that come together to produce a smooth, beautiful, harmonious flavor.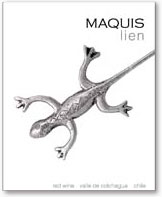 2011 Viña Maquis Lien
The distinctive 2011 Maquis Lien is made from a finely tuned blend of 35% Cabernet Franc, 30% Carménère, 25% Syrah, 10% Petit Verdot. It is a generous red wine that reflects the character of the Hurtado family's special plot of land.
To make this fruity and concentrated blend, the winemakers have developed vines that bear no more than 12 bunches of grapes per plant. Only the ripest grapes are picked, then sorted by hand at the winery. The Lien is barrel aged for 12 months in French oak.
In Chile's native Mapuche language, lien means "silver metal"—a reference to colonial Spanish coins that were once melted to make fine jewelry, like the lizard that adorns the Maquis label.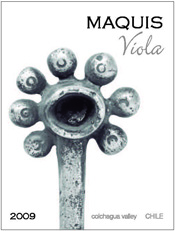 2010 Viña Maquis Viola
Viola is produced from the fruit of the very best vineyards on the Maquis estate. The tiniest grapes from these vineyards are concentrated and yield silky tannins with the greatest depth and complexity.
The skills of our viticulturist, Xavier Choné, and our blenders, Jacques and Eric Boissenot, are clearly apparent in this balanced and elegant blend.The spices, black fruit and smooth texture of the Carménère, the principal component of the blend, are complemented by the extraordinary finesse and length on the palate by the Cabernet Franc. Viola is 85% Carménère, 15% Cabernet Franc.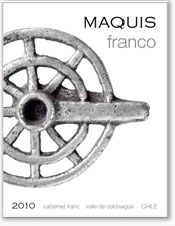 2010 Viña Maquis "Franco" Cabernet Franc
Maquis "Franco" is Chile's great Cabernet Franc. Under the guidance of renowned master blender, Jacques Boissenot, Maquis has produced a 100% Cabernet Franc that is not only an elegant wine to drink now, but will transform as it ages over the next 20 years. The unique seasonal conditions and soils of the Colchagua Valley help to produce a wine with great aromatic intensity and complexity.
"Franco" has already been gaining attention with a stunning 95 points from renowned wine critic Michael Franz. It was also chosen as the "Best Cab Franc of Chile" by national wine guide, Descorchados, which is produced by Wine and Spirits Magazine writer Patricio Tapia.